The Ukulele as we know, took shape in Hawaii, but it was derived from an instrument called a machete that was passed on by Portuguese immigrants in the 1870s. It's commonly found with four nylon strings and smaller body than the acoustic guitar.
That are four common varieties: soprano, concert, tenor and baritone. These vary in terms of size, scale length and tuning.
Its distinct sound and accessible format has made the humble ukulele more popular than ever before!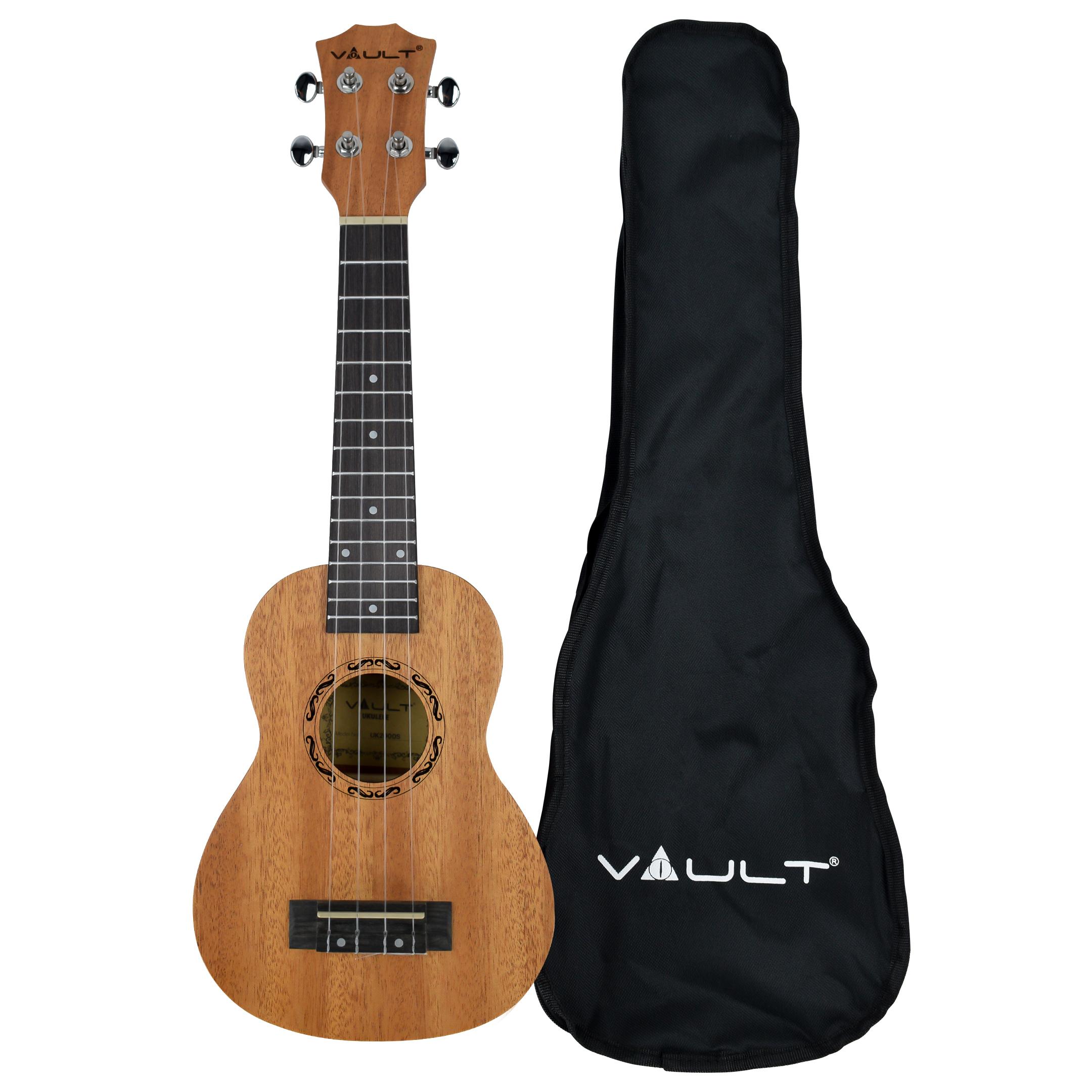 Vault UK2000S Solid Top Premium Soprano Ukulele
The Vault UK 2000s is a 21 inch Solid Mahogany Top - Soprano Ukulele,  with Mahogany laminate back and sides. Solid wood-top ukuleles have a distinct advantage over laminate or ply tops in the quality of resonance that they provide.  This is the perfect ukulele for any learning to advanced musician and is lightweight, comfortable & compact.

Frequently Asked Questions

Q: What is a Ukulele?
A: A Ukulele is a stringed instrument that looks like a small guitar. It has 4 nylon strings and is very easy to play due to the strings being soft and gentle on the fingers (as compared to a guitar). It is a very versatile instrument and a great choice for beginners and pros alike. 
Q:

 What are the different types/sizes of Ukuleles?
A:
Ukuleles come in 4 different types/sizes, (measured from end to end).
Soprano : 20" - 22"
Concert : 22" - 24"
Tenor : 26"
Baritone : 30"
Q:

 What is the standard tuning of a Ukulele?
A:
All ukuleles are tuned similar to the first 4 strings of a guitar, but the notes are slightly higher given the shorter scale length
Soprano, Concert & Tenor Ukulele strings are tuned to - G - C - E - A. ( from top string to bottom string)
Baritone Ukuleles are tuned to - D - G - B - E. (This tuning is similar to the bottom 4 strings of a guitar)
Q:

 Which Ukulele size is best for a beginner?

A: The most popular ukulele size for a beginner is Soprano & Concert. (for bigger hands, concert ukuleles & Tenor ukuleles are more comfortable due to the longer fretboard).