Find The Right Sized Guitar For Your Child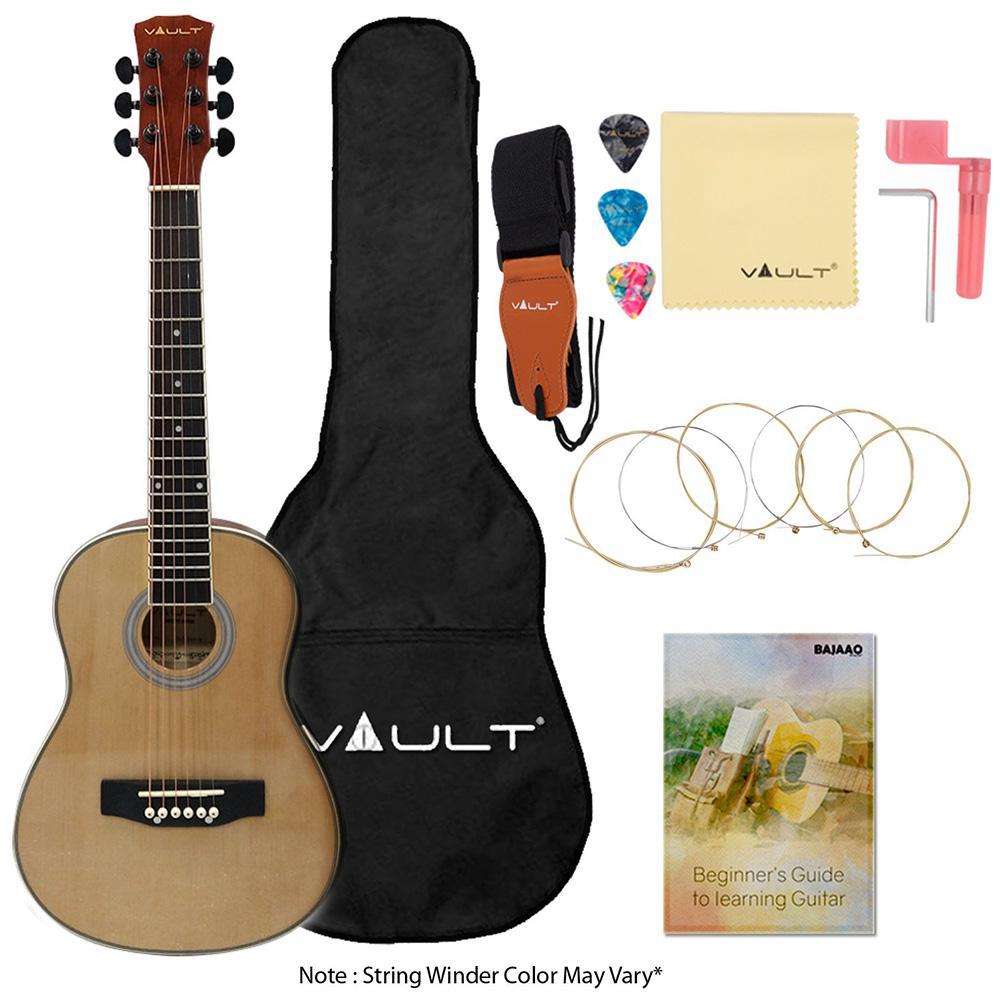 Vault Junior 30 Inch Acoustic Guitar for Kids
Rs. 3,999

An all-new addition to the Vault line of acoustic guitars, this Junior guitar is built with great craftsmanship and quality and is primarily aimed at our younger audiences.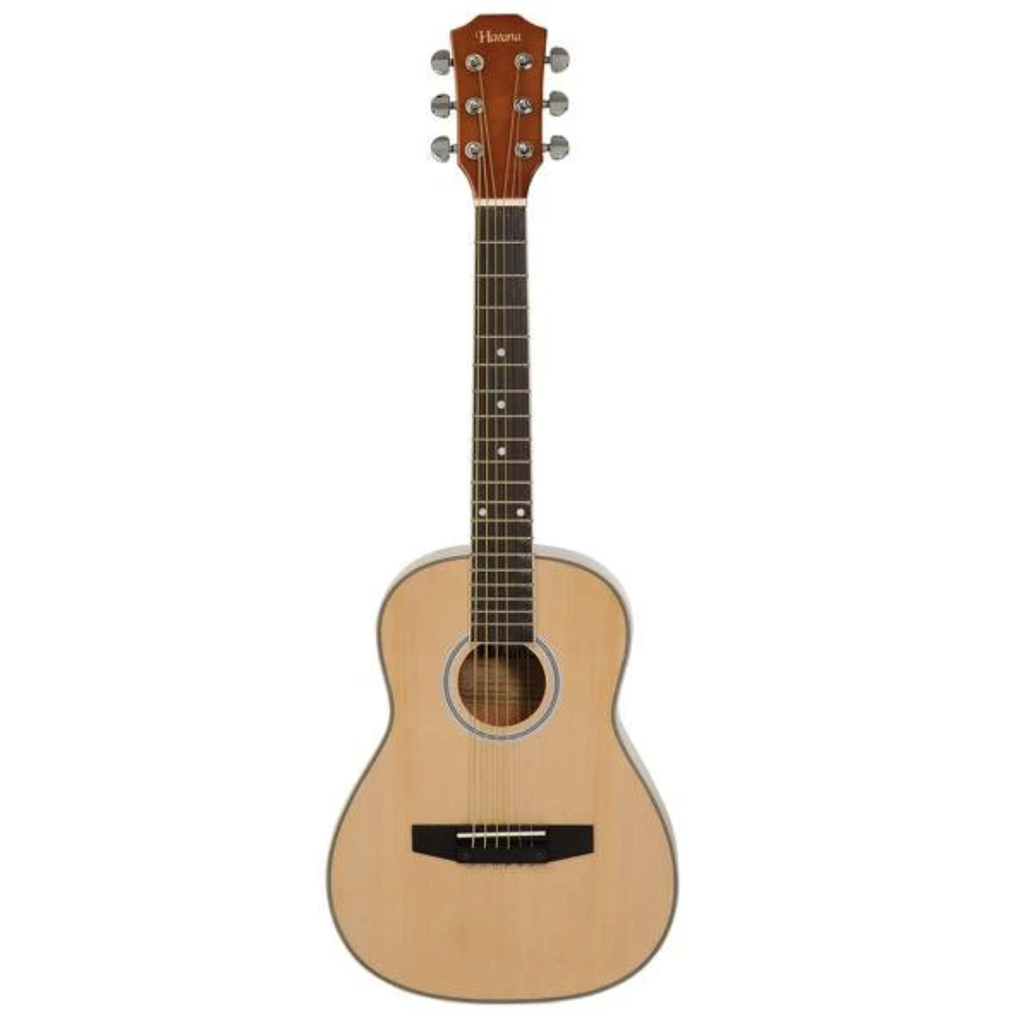 Havana AG-30 30-inch Baby Acoustic Guitar for kids
Rs. 3,913

Havana 30 inch 6 string guitar is perfect for lessons and practising. Great for children learning to play the guitar with basswood body construction and rosewood fretboard.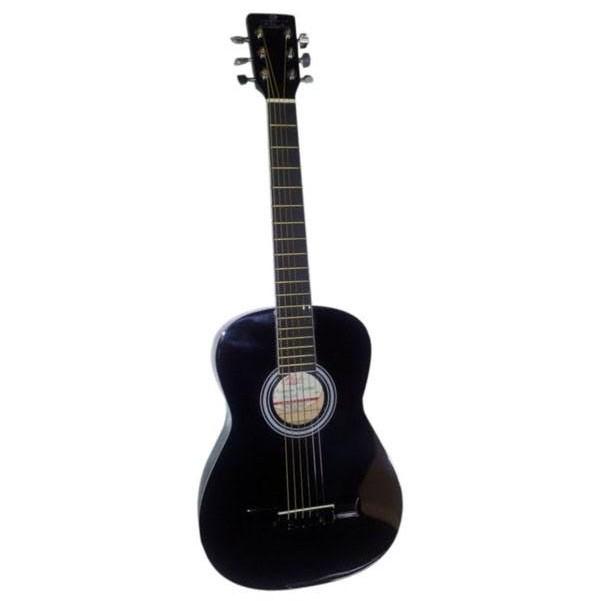 Pluto HW34-101 34inch Baby Acoustic Guitar
Rs. 4,105

The Pluto HW34 is perfect for 6-9-Year-old Children. The top is constructed of solid Sitka spruce and braced with scalloped 1/4' high-performance braces to deliver big, open tones.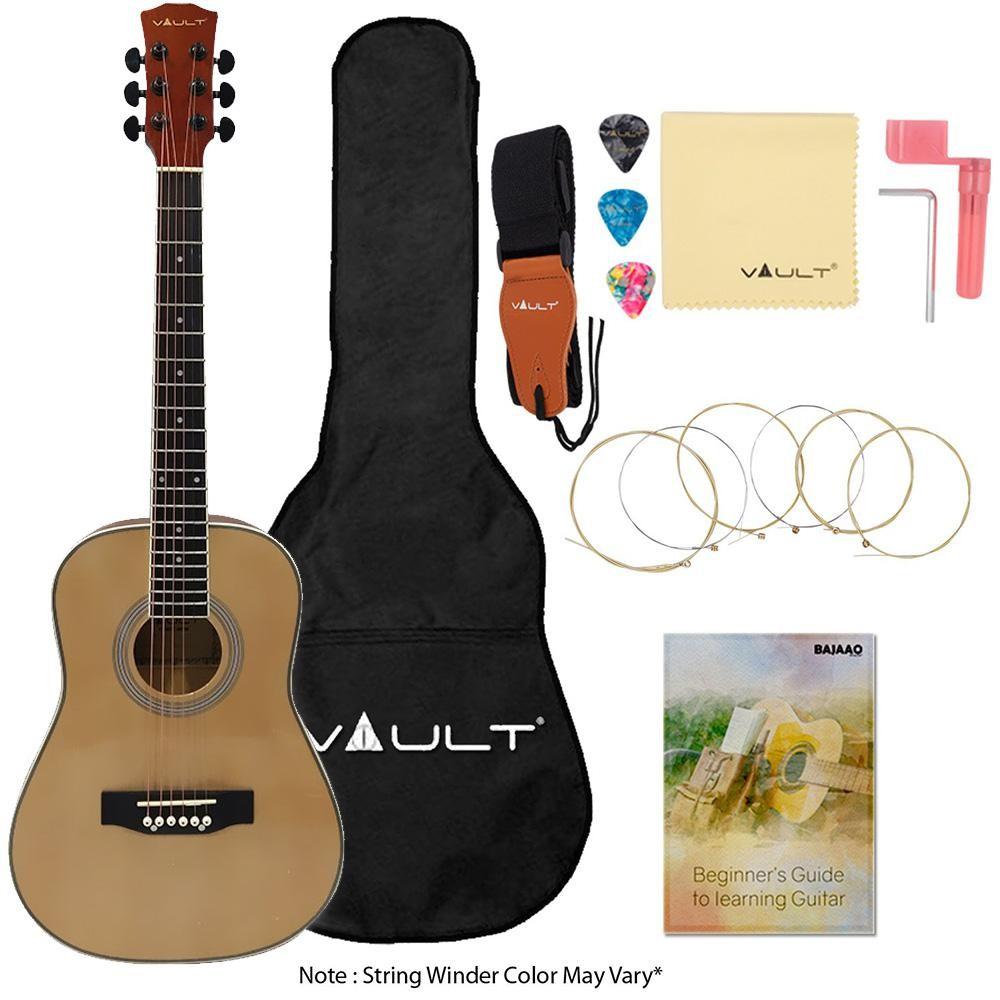 Vault Traveller 34 Inch Acoustic Guitar With Accessories
Rs. 4,499

This 34" steel-stringed dreadnought style acoustic guitar is the perfect companion for children. The 3/4 size guitar comes loaded with Vault's standard dual-action truss rod, superior die-cast tuners and solid spruce top construction.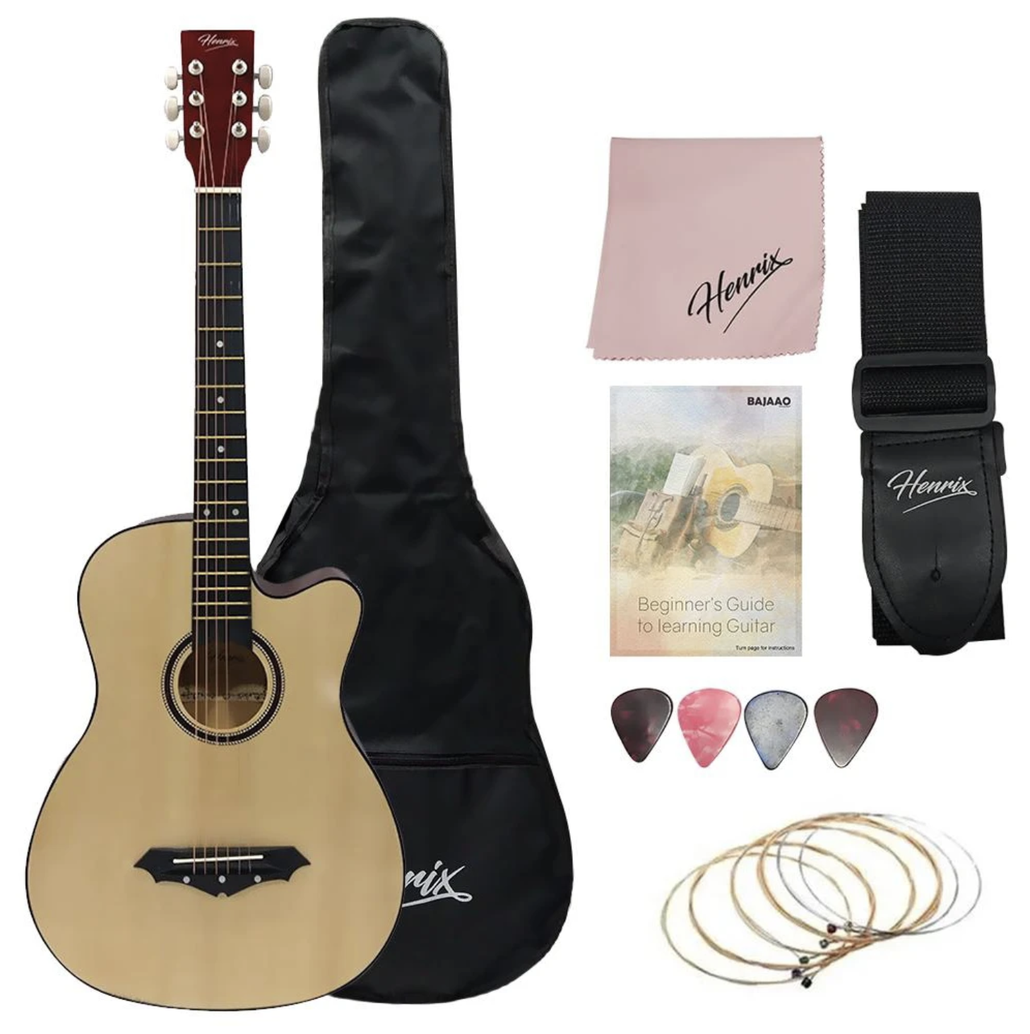 Henrix 38C Cutaway Acoustic Guitar

Rs. 2,849

Comes with a dual-action truss rod which gives you the liberty to adjust the action of your neck in either direction if warped. This is a more advanced design and is used by modern luthiers over the vintage single truss rod.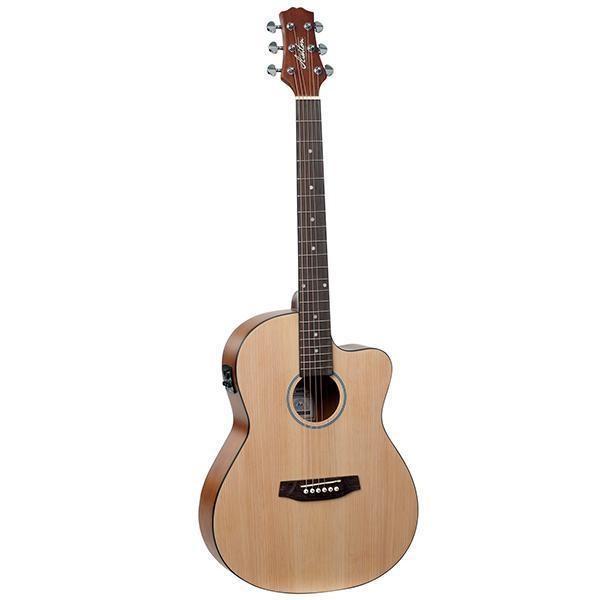 Ashton D10CEQ 39-inch Cutaway Electro Acoustic Guitar with EQ
Rs. 7,399

These guitars are made by Ashton D20 (top-selling model) factory. They come with Ashton 4Band EQ & Tuner and have the same sound quality and finishing as the D20 guitars.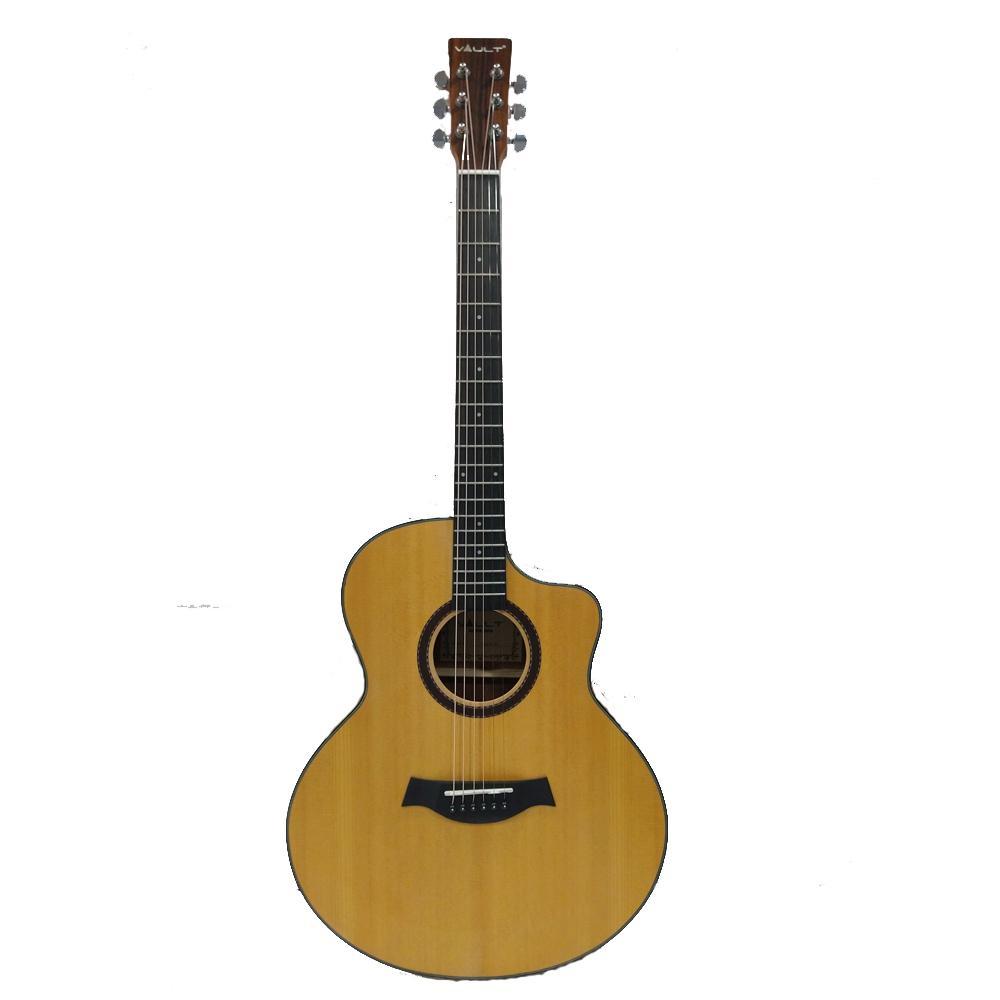 VAULT EA40 41 INCH PREMIUM ACOUSTIC GUITAR

RS. 7,399

Vault 41" Premium Acoustic Cutaway guitars are made of natural premium woods, dual-action truss rod superior die-cast tuners and ABS binding. With a thicker sound chamber than regular acoustics, its sound will literally blow you away.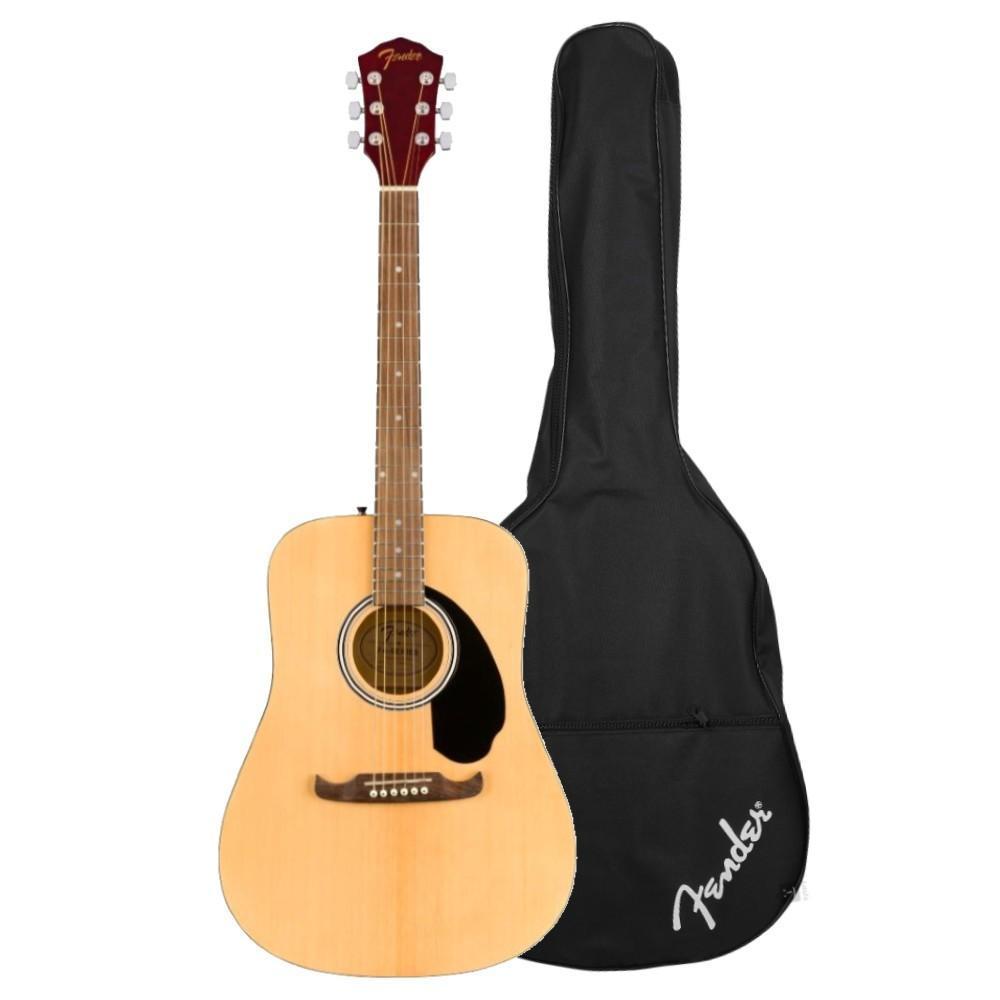 Fender FA-125 Dreadnought Acoustic Guitar With Bag

Rs. 13,015

The FA-125 is a visually stunning guitar with a budget-friendly price. Quality laminate construction with a modern Fender 3+3 headstock and Viking bridge create an easy-playing instrument that sounds great.

FREQUENTLY ASKED QUESTIONS
Q:

What are the different types of guitars?

A: Acoustic Guitars, Classical Guitars, Electric Guitars & Bass guitars are the different types of Guitars. However, Acoustic Guitars are considered best for beginners.



Q:

How is the size of a guitar measured?

A: The size of a guitar is measured by Scale Length & Overall Length. (Overall length should be the primary factor in picking the right sized guitar)



Q:

How do I find the right sized guitar for my child?


A: The main factors to consider include the Height of the child which would correspond to the best suited Overall Length of the guitar.




Q:

What are the most important accessories you need with your guitar?

A: Most important accessories include -Picks TunersGigbags / Case, Extra set of Strings, Guitar Strap & Capo.

Find The Right Sized Keyboard For Your Child
Keyboards For Age Group 2 to 7 Years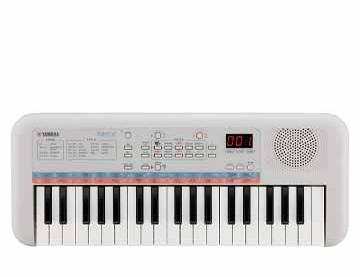 Yamaha Remie PSS E30 Kids Compact 37 Key Portable Keyboard
Rs. 3,550
The Remie (PSS-E30) features beautiful sound, a keyboard made for small hands, and a songbook designed to help you guide your little one.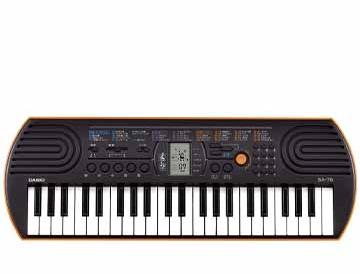 Casio SA78 Kids Mini Portable Keyboard

Rs. 3,795

The Casio 44-key keyboard SA-78 offers all discoverers of music the essentials for playing those first tunes. 100 tones, 50 rhythms and 10 integrated songs with 8-note polyphony ensure good sound quality.

Keyboards For 8 Years and Above
FREQUENTLY ASKED QUESTIONS
Q:

What are the different types of Keyboards?

A: Portable Keyboards/ Arrangers, Midi Keyboards, Digital Pianos & Synthesizers are the different types of Keyboards. (However, Portable Keyboards & Arrangers are the most suitable options for Beginners)



Q:

How do I choose the right keyboard for my child?

A: The main factors to consider are - Age of the Child & the Size of keys on the keyboard. Please refer to the above table for more details.



Q:

What are the most essential accessories for a Keyboard?

A: Dust Cover / Gigbag

Keyboard Stand (only for 49 Keys / 61 Keys)

Sustain Pedal (if pedal input is available in your Keyboard)

Find The Best Ukulele For Your Child
FREQUENTLY ASKED QUESTIONS
Q: What is a Ukulele?

Origin : Hawaii
A: A Ukulele is a stringed instrument that looks like a small guitar. It has 4 nylon strings and is very easy to play due to the strings being soft and gentle on the fingers (as compared to a guitar). It is a very versatile instrument and a great choice for beginners and pros alike. 
Q:

What is the standard tuning of a Ukulele?

A: All ukuleles are tuned similar to the first 4 strings of a guitar, but the notes are slightly higher given the shorter scale length

Soprano, Concert & Tenor Ukulele strings are tuned to - G - C - E - A. ( from top string to bottom string)

Baritone Ukuleles are tuned to - D - G - B - E. (This tuning is similar to the bottom 4 strings of a guitar)

 
Q:

Which Ukulele size is best for Kids?

A: The most popular ukulele size for Kids is Soprano. However, concert ukuleles are generally more comfortable for bigger hands. 
Find The Right Drum Kit For Your Child
Junior Acoustic Drum Kits for age group 3 to 9 Years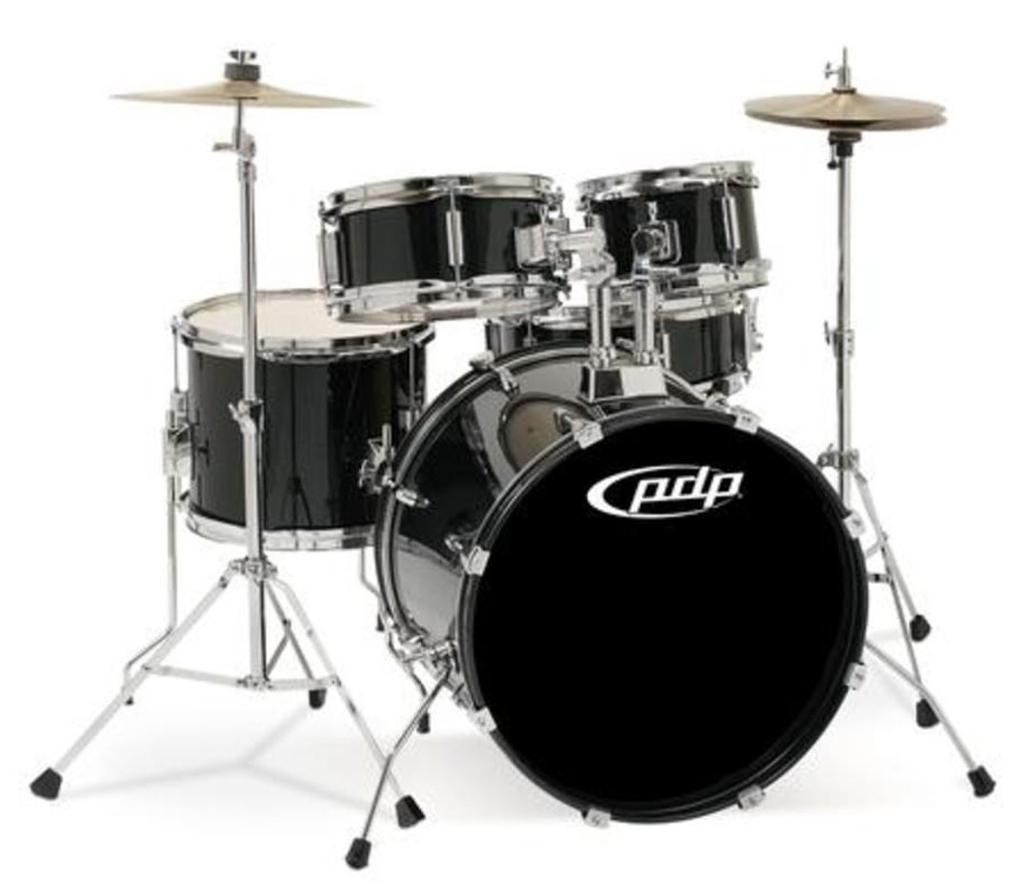 Dw Drum Workshop PDP 5-Piece Player Junior Acoustic Drum Set
Rs. 33,250

At PDP, we think every kid should be a Player!
The PDP Player Kit is a scaled-down starter set for aspiring, young drummers.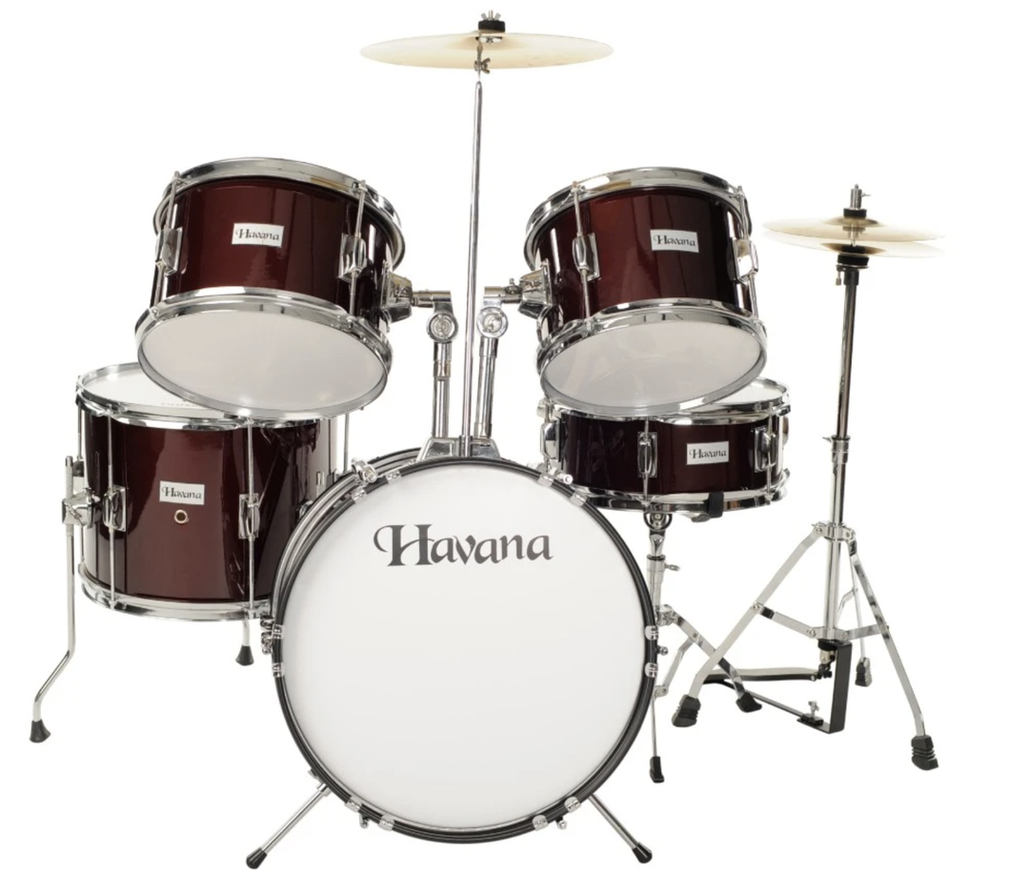 Havana 104-5WR 5-Piece Junior Kit With Hardware

Rs. 16,699
It is an excellent drum kit delivering great specifications. Made from premium quality material, this set of 5 pieces is sturdy will last for a long time.

Acoustic Drum Kits for age group 10 Years and Above
Electronic Drum Kits for Kids
FREQUENTLY ASKED QUESTIONS
Q:

What is a kid's drum kit?

A: We have Junior sized Drum Kits available by known brands that have kits suitable for age groups 3 to 9 years. 10 years onwards a standard size kit is recommended.



Q: 

Are junior kits the same as standard/adult kits?

A: Junior kits are similar to a standard-sized drum kit, they're a bit smaller than an average standard sized kit.



Q:

What should I look for in a kid's drumkit?

A: Most starter kits come with limited hardware and cymbals. Getting a kit with included cymbals and hardware will enhance the playing experience for your child.